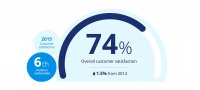 SSE, parent company to SSE SWALEC, came sixth in the 2015 uSwitch Energy Awards for overall satisfaction.
This survey was conducted by YouGov amongst 5, 100 UK energy consumers (aged 18+). Customers were asked their opinions on a wide range of issues relating to satisfaction with their energy suppliers. The figures have been weighted.
Latest SSE Southern Electric price changes
In January 2015, SSE announced a price cut of 4.1%, effective 30 April. This change affected all customers of all SSE's subsidiaries, including those on tariffs from SSE Southern Electric.
Later in 2013, the supplier announced it would reduce its price rise in line with government-led cuts to green levies. This would result in an overall price rise for SSE Southern Electric customers of 4.2%
The table below shows which of the big six suppliers, including SSE Southern Electric's parent company, SSE, recently changed their prices, by how much, when this change will take effect and customers' average annual bill amount.
2012-2011
Previous to this, SSE raised its prices in October 2012, when the supplier increased rates by 9%. Before that, in March 2012, the SSE Group reduced its gas tariffs by 4.5%.
And previous to that, SSE Southern Electric increased its gas prices by 18% or £118 on gas and 11% or £49 on electricity from September 2011.
2010
SSE Southern Electric increased its gas prices by 9.4% on 1st December 2010. On 29th March 2010, SSE Southern Electric cut its gas prices by 4% for dual fuel customers, 7% for single fuel customers and 9% for pre-payment customers.