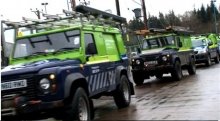 Scottish and Southern Energy Power Distribution is responsible for maintaining the electricity networks supplying over 3.7 million homes and businesses across central southern England and north of the Central Belt of Scotland 24/7 365 days a year. We own and operate two electricity distribution networks, comprising 106, 000 substations and over 130, 000 km of overhead lines and underground cables across one third of the UK. Our main offices are in places like Perth, Reading, Inverness and Poole. More than 3, 500 people including hundreds of apprentices and trainees, live and work in the communities they serve from the Shetland Islands to the Isle of Wight, and Portsmouth to Aberdeen.
Southern Electric Power Distribution (SEPD)
SEPD is the largest of our two distribution networks and delivers electricity supplies to over 2.9 million customers across central southern England. Our operational region ranges from rural communities in Dorset, Wiltshire, Gloucestershire and Oxfordshire to towns and cities including Bournemouth, Oxford, Portsmouth, Reading, Southampton, Slough, Swindon and in parts of west London. We also distribute electricity to and across the Isle of Wight.
Scottish Hydro Electric Power Distribution (SHEPD)
SHEPD delivers electricity to some 740, 000 customers in the north of Scotland. Our SHEPD operating region covers a quarter of the UK landmass which attracts unique challenges both in terms of distance and location. As well as the major towns and cities of Aberdeen, Dundee, Inverness and Perth, we connect to most Scottish islands with over 110 subsea cable links, including the Inner and Outer Hebrides, Arran and the Orkney Islands. We also serve the Shetland Islands, which runs as a separate electrical system without a connection to the mainland.
Our first priority is to provide a safe and reliable supply of electricity to the communities we serve in Scotland and England. We are responsible for maintaining, repairing and improving the electricity network from a network of 14 depots in these regions. In the last financial year, Scottish and Southern Energy Power Distribution has invested £192m in the electricity infrastructure.
Operating, maintaining and improving electricity networks needs to be carefully controlled to ensure safe and reliable electricity supplies. This means there is only one electricity distribution company in a specific region. Because of this, all DNOs operate under licence and their activities are controlled by Ofgem, the industry regulator.
See also: