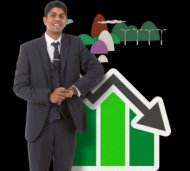 You could make huge savings on your business energy. Save an average of 20%-40% on your gas, electric and water by finding the best deals in your area. Fill in our form below and hit "compare and save" to see how much you could be saving.
Why comparing business energy prices is a great idea
You save yourself and your business money.
You can explore a wide range of tariffs and prices across the energy market.
Get peace of mind knowing you're on the best available energy tariff.
Is comparing business energy difficult?
Not at all! We take out all the stress and time-consuming effort of switching your current energy provider. Unlike other companies, we are impartial, so this means we can search the energy market for you. This helps guarantee you get the very best energy price and service possible.
How long will it take to switch my business energy provider?
The average time for a business energy switch is 4-8 weeks, but this does come down to a matter of factors. For example, do you owe your current business energy company any money? This is commonly known to hold up the switching process. Another issue could be that you are still in contract, so we may need to wait for your old contract to come to an end before we can switch you over.
Exchange Utility is one of the biggest and best companies to help you compare business energy prices in the UK
Call free now on 0800 9777 000 and speak with one of our business energy experts, or please fill out our form at the top of this page.