Business electricity suppliers can vary greatly in prices. However, a deregulated energy market allows you to select from independent energy suppliers rather than just receiving energy generated by your utility company and accepting their variable pricing.
The delivery of energy is regulated throughout the United States, so you will continue to receive services and maintenance of lines from your utility provider. What changes is the company actually generating and providing your energy.
Comparing Business Electricity Suppliers:

If you're wondering how to compare energy suppliers and pick the one that offers the best deal for your business, this quick checklist will help you understand the differences between suppliers:
1. Fixed vs. Fluctuating Contracts
Many energy suppliers offer fixed rates. This benefits your business by deliver a consistent rate that you can predict month to month, making it much easier to budget and pay your bill. You also have protection against rate increases until the end of your contract.
Other suppliers may offer fluctuating costs, and the market is often volatile. This is similar to how rates fluctuate in unregulated markets, and many businesses look for suppliers offering fixed rates.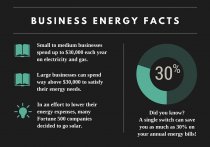 2. Terms of Agreement
Many business electricity suppliers now make it fast and easy to switch to their services by allowing you to sign up online or by phone, but you have to make sure you understand what you are agreeing to before you make a switch. There are different contractual terms offered by different suppliers, and individual suppliers may make different offers to different groups of customers.
Some things to look for before agreeing to a contract include:
Length of the contract
Fees and deposits
Renewal notification and timeframe
If you are going to face late fees or fees to end your contract early, you need to be aware of those terms before making the switch. Knowing whether your contract will automatically renew is also important because you may want to switch to a different provider offering better terms at that point. These are all points to compare when considering offers from different energy suppliers.
3. Financial Savings
How much money are you going to save if you switch to each optional service provider? When you work with an energy consultancy you can save up to 30%, but you may not get the best deals if you try to negotiate directly with some energy suppliers. Look at the rate offered and determine which company is going to save you the most money over the longest period of time.
4. Renewable Energy Sources
The way energy is generated varies from one power plant to another. Many energy suppliers are now offering cleaner energy produced from renewable sources, and this is often represented as a percentage of the energy produced with the cleaner sources.
If you are concerned about the environment, this is something to consider asking about before signing up for a new service.
5. Consultancy Recommendations
This is the most important factor to consider because it doesn't cost you anything but could save you a lot of money over the next couple of years or even longer. An energy consultancy is able to secure the best deals by negotiating with service providers on behalf of many different businesses and residential consumers.
When you work with one of our professional consultants, we will help you assess all of your options and negotiate the best deals for maximum savings. That recommendation will help you select the best business electricity suppliers, since the terms offered are different from every supplier.
Learn More:

› Business Electricity Suppliers