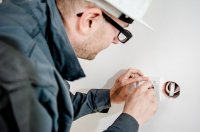 A lot of houses were built before the advent of the 75-inch plasma TV screen.
They were also built before people had five computers, four phones, two laser printers and a DVD player that gets used MAYBE twice a year. And now, the world generates about three times more energy than it did in 1980. What does that mean for you? It means as demand for electricity grows, so will demand for electricians. And you need to cash in on part of that demand.
Visit Your Clients
The word "face time" in 2016 seems to refer more often to the video app, FaceTime, than it does paying actual visits. And that's a shame, because real face time with your best customers might be the most valuable thing you can do to grow your business. First, it puts you top of mind for any work they'd possibly have. Second, it allows you to speak with them in a place where they're both comfortable and unrushed. And finally it makes your customers feel valued, and serves to cement that relationship much better than an email.
Always Carry Business Cards
Because when you run a small business, every interaction is a networking opportunity. Not that we're encouraging you to get chatty with your seatmate next time you fly, but you never know when that stranger on the plane ends up being a general contractor who needs a new electrician. Or the guy next to you in line for morning coffee is the head of the maintenance committee of a giant HOA. And while some argue technology has made business cards obsolete, a tangible card serves as a more-salient reminder than a contact buried in a phone.
Join Trade Associations
Are you familiar with the term "frenemies?" If not, ask any Millennial and they'll happily explain those are people you're friends with, but with whom you are also fiercely competitive. Look at your local Electric League as your newest band of frenemies. Joining the league will allow you to better know your competition; but don't look at it as simply a way to keep your enemies closer. Joining a trade association and being friendly with other electricians can result in referrals from people who can't handle new business. Or invitations to collaborate on large bids. It might not be networking in the traditional sense, but it's no less valuable.
Keep on Top of Your Online Presence
Posting pictures of electrical wires probably isn't going to net you ten million Instagram followers and invitations to "influencer trips" to Bali. Though you never know. As long as that's not your goal, however, posting pictures of finished projects and other things you're proud of – at least once a day – will help your search engine ranking immeasurably. If you don't have time, hire a social media firm or consultant. It might seem silly to invest so highly in social media when electric is such a niche field, but the more active you are online, the higher your business will rank on search engines, which ultimately means you will show up in the top results when locals search for an electrician in your service area.
Keep Your Website Up to Date
Of course you can hire a firm or contractor to work the living heck out of your website and social media channels, but if the information on your site looks like it hasn't been updated since 2008, you're not going to get a lot of new business. Again, if you don't think you have time to keep your website constantly updated, with links to current blog posts, outside articles, recent projects and other brag-worthy items, hire someone. Having a ghost town of a website will at best make you look like a small-time operation, and at worst have people thinking you went out of business.
Ask Your Employees to Bring in Leads
As a business owner, you surely have a solid network of contacts to leverage for new jobs and referrals. But you probably also have a number of employees who've been in the industry for a while, and have a pretty sizable rolodex too. As a company-wide initiative, ask your employees to contact a few people in their circle who they think might bring in new business, and offer up a referral bonus if it comes to fruition. If you've got 45 employees and each brings in one new client a quarter, that's a pretty sizable gain.
Make Friends with Whomever is in Charge of Maintenance
Nobody in history has ever flipped on the light in their brand new condo and thought "I wonder who the skilled artisan was who made this happen?" Unless it doesn't work. But there's no reason end users should only know who you are when things go wrong. When a job wraps up, introduce yourself to whoever is in charge of repair or new service orders, and give them your contact information "in case you ever need anything." Since you're the most familiar with how the electrical work was done, you're automatically the most qualified to work on it again.