How is E.ON responding to the changing energy landscape?
Johannes Teyssen: Energy markets are changing rapidly, and competition is keen. Hardly anyone could've imagined it, even just a couple years ago. Customers' energy needs are changing dramatically. A new energy world is emerging, one that's decentralized, green, and interconnected. E.ON's entire business is now geared toward this emerging world. We're the first large energy company in Europe to be so resolute in our focus on the future energy world and its customers. Our three core businesses reflect key global energy trends: the transformation of yesterday's power lines into tomorrow's smart energy networks, the global growth of renewables as people worldwide do their part to tackle climate change, and the increasing demand for innovative customer solutions.
What's new about the new E.ON?
Johannes Teyssen: The new E.ON has three core businesses in stable, growing markets: energy networks, renewables, and customer solutions. We provide our services and develop innovations to serve residential customers, companies of all sizes, and towns and cities. All of these customers want simple, user-friendly energy solutions. And more and more of them want to decide for themselves where their electricity comes from. Our customer-solutions business provides energy solutions tailored to customers' individual needs in the new energy world. We aim to be their partner of choice for energy solutions.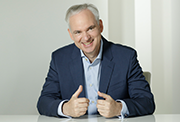 How will customers benefit from the new initiatives?
Johannes Teyssen: We listen to our customers carefully so that we learn how to do an even better job of satisfying their needs. But the combined expertise of our 40, 000 employees enables us go even further. We're already thinking about our customers' future needs—in tomorrow's homes and tomorrow's cities—and developing innovative solutions to meet them. To be a pacesetter, it's essential for us to look ahead.
How will the work culture change at the new E.ON?
Johannes Teyssen: I'd like us to take this new beginning as an opportunity to work together to make E.ON lean, agile, and entrepreneurial. Our new strategy can only succeed if we change the way we think and work together. That's how we'll be able to meet our customers' needs now and in the future, to generate attractive returns for our shareholders, and to offer our employees exciting and secure jobs. Our vision is to improve the quality of people's lives. To realize this vision, we need to roll up our shirtsleeves and work together.