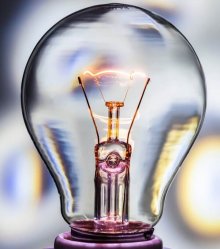 UpdatedComparing cheap business electricity prices and tariffs for commercial enterprises is generally a little less straightforward than comparing rates for consumers.
The reason is that there are far more business electricity plans out there than there are for home consumers. Which plan is right for you, and how much it will cost, will depend on the type, size and location of your business.
The table below compares the current electricity tariffs and rates UK energy companies are offering on a variable rate deemed contract. By getting a fixed term contract you can almost certainly pay far less.
Business Electricity Prices*
Prices were believed accurate at the time of publication (15 August, 2016) and are based on non-half hourly contracts at deemed, default and/or out of contract rates for both standing charges and price per kwh. If tariffs differed across regions, the price in London was used for profile classes 01-04. The first 6 companies listed in bold are all big six energy suppliers. Sources for all data can be found at the bottom of this page. While we attempted to provide the most accurate information possible we take no responsibility for any inaccurate pricing found here. Contracts and prices are the sole prerogative of the energy companies themselves and we have no control over them.
How To Get Cheaper Electricity Than The Rates Above
The tariff comparison above is effectively comparing the worst rates offered by each electricity supplier. Deemed/Out-of-contract pricing only occurs when there is no other pricing agreement in place.
You can save money on these by either using your electricity at night and/or being a large energy customer. For example, E-On offers business customers with half-hourly meters nighttime rates as low as 10.60 pence per kWh.
However, you may be able to do even better than 10.6p/kWh with a fixed term contract.
Fixed term contracts often offer savings of 40-60% below the rates listed above, with some still offering electricity at prices below 10p/kWh.
Therefore, the single best thing you can do to save money on your business electricity bill is to compare contracts. You can get started now by filling in the form at the top of the page.
Regional Variations In Business Electricity Rates
Some UK suppliers charge different rates depending on which part of the country your business is located in. This can be due to the location of their power plants and/or other energy infrastructure.
See also:
Benefit from fantastic savings on resume builder , just by taking a look at http://glever.com

The best place to buy artwork online. Find the perfect original paintings, of original art in the world. Buy original contemporary art Buy original contemporary art

Painters and Decorators in London providing the London area with a great range of painting and decorating solutions. Painters and Decorators London for a FREE quote.