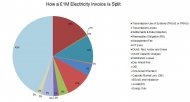 The average non-domestic electricity invoice has around 18 different charges. Of these, a single line item may cover what you actually pay for the raw energy itself and, in most cases, will not even represent 50% of your final invoice.
So, What About the Rest of My Invoice?
This is where the real confusion starts. You may have heard of terms that have been part of your bills for years, such as Distribution Use of System (DUoS), Transmission Network Use of System (TNUoS), imbalance charges, and losses. But have you heard about Contracts for Difference (CfD), Feed in Tariff (FiT), and Renewables Obligation (RO)? When it comes to these, most people find themselves confused.
The "older" charges you may have heard of—DUoS and TNUoS—relate to the distribution and transmission aspects of your services. Whereas a lot of the newer charges are governmental levies that the UK has brought in over the past couple of years.
These levies now account for a large percentage of an invoice, increasing from around 7% back in 2010 to over 21%, with known increases in both CfD and the Capacity Market (CM) levy. These increases were designed to help the government reduce fossil fuel usage and increase renewables in the UK, in line with commitments to the EU and Kyoto agreements.
With a full review of electricity levies expected this Autumn, one can expect further increases in the future. And it's not just these levies that are on the rise. Another 40% increase is expected for transmission and network charges by 2020 to help pay for necessary new technologies infrastructure.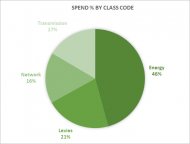 What Does My Invoice Really Break Down To?
An average £1, 000, 000 annual energy spend could look like the following:
So Many Charges, How Can I Simplify It?
Not all suppliers will list the 18 charges on your invoice; they may aggregate these up to a "fully-inclusive" rate. Therefore, what you pay may be displayed in different ways from contract to contract. While this might "simplify" your invoice, fewer line items doesn't give you any more control of your data.
Discover how to leverage your utility bill data to make more informed decisions about energy use and purchasing across your sites.
In fact, more line items can help you better quantify your data. Consider this: of the 18 or so different line items on your invoice, the majority can be categorized into four classes.
Energy – the raw energy cost and those aspects used to purchase it
Network – distribution charges paid to your local distribution companies
Transmission – fees charged by the National Grid to transmit of the energy
Levies – All of the different levies paid to help support governmental schemes in renewables and to help secure a good source of energy
Learn how to streamline management of your utility bills, and automatically ensure they're error free.
See also: