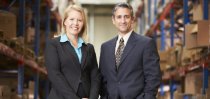 Whether your business is in Texas, Ohio, Pennsylvania, New Jersey, or one of the many other deregulated states — it pays to shop around and compare electricity rates.
No matter how small or large the company may be, when businesses need to shop for a new energy plan, they are often faced with a unique challenge when it comes to finding the right solution. Even small businesses must face the fact that powering a company is far more complex, and more expensive, than powering a home or apartment.
With this in mind, those in charge of shopping for new commercial electricity rates for the business need to pay close attention during the comparison process. So many deregulated states have countless retail energy providers available all with their own unique, yet equally similar, plans available. This can make the shopping process confusing, but it's important that you take the time to really compare each plan and use sites like Electric Choice to guide you.
As you narrow down your options, here are some of the best ways to compare commercial electricity rates and make certain you walk away with the best plan for your company.
Fixed Rate Options
One of the biggest decisions that commercial clients often have when shopping for an energy plan is whether or not they should choose a fixed rate or variable rate. There are benefits to both, but many commercial clients choose fixed rates as it helps make budgeting easier.
What concerns many consumers about fixed rate plans is that if market prices drop, they can end up severely overpaying for energy. With this in mind, look at the fine print with any fixed rate plan and see what happens if you want to cancel your service early. The best way to secure your company against overpaying is to find companies that offer no contracts, short term contracts or little or no penalties for early cancellation.
Variable Rate Plans
Not all commercial customers choose fixed rate plans, some choose variable rate, or "month-to-month" solutions. The great thing about these plans is that your company will never overpay for electricity. However, your rate will fluctuate with the market so it can make budgeting for energy a little more challenging.
Variable rate plans are pretty straightforward but before you lock yourself in to one of these plans, look at how long your contract is and take a look at the market's recent behavior to see what types of fluctuations you may be able to expect.
Electricity Price
Price is one of the biggest components that consumers tend to look at when it comes to a new energy plan. The price is typically displayed per kWh, but it may be broken down to price per 500 kWh, 1000 kWh or 1500 kWh. Make sure you are clear on what the price really means before you start comparing it to the numbers you see in a different contract. If you are going to compare apples to apples, you want to make certain you are comparing the same things.
What many commercial consumers do not realize is that some companies lower the rate based on how much energy you consume. Essentially the more energy you consume the less you pay per kWh. This is a great way for companies who use a great deal of electricity to save, so make sure you are clear on this type of pricing breakdown as you compare. To get a better look at what type of savings you could be enjoying, look at your past kWh usage from an old energy bill.
Contract Terms
There is always fine print to be read on any energy contract. Make sure that you look to see if a contract has minimum terms or usage amounts you have to reach and if they will charge you for early cancellation fees.
Comparing Reviews
Nearly every Retail Energy Provider on the market will have some type of review written up on their company. With a little research, chances are you can easily find some revealing reviews that will let you know more about the company, the way they treat their clients and insight on past customer experiences.
Customer reviews shouldn't be the only thing you use to determine whether or not you pick a supplier, but they can come in handy if too contracts are relatively similar.
Commercial Incentives
When shopping for a new energy plan as a commercial consumer, you will have access to certain incentives that can save you money over time. Some companies will have rewards programs, while others will offer gifts, cash back or rewards for customers who pay their bills on-time or use a certain amount of energy per month.
Some providers will donate to your charity of choice, others will enter you into sweepstake contests while others may pair your energy plan with your company's frequent flier program. Most providers have some sort of commercial incentives, take a look and realistically determine if these incentives could end up saving you in the end.
A company's electricity bill can be thousands of dollars every month, meaning a great deal in overhead costs for that corporation. The right bill, locked in at the right rate, can end up saving you hundreds or even thousands per year. This is why taking the time to compare each plan is so important, as it can make a great deal of difference in how much any company can earn in profits.