What our clients are saying
D-energy
We at printing.com have had a fantastic business relationship with D-ENERGi for over 14 years, and its always a pleasure. I'd highly recommend the team at D-ENERGi to anyone!
Antony Elmore D-energy
I have been a client for about 7 years. I run a large, multi-site care business in the South East and was initially canvassed and offered some good rates, which I took up. They now look after every single energy contract I have.
Mike Smith D-energy
I have had very little reason to contact D-ENERGi but on the occasions I have, found them friendly and helpful J.Hall.
J Hall D-energy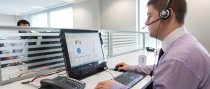 Superb professional service! Would highly recommend D-ENERGi - we were already a customer from a previous contract and the rates offered were competitive and the service provided with excellent Zoe!
Zoe!
We are one of the few totally independent UK energy providers.

D-ENERGi already holds a significant market share of SME business in the UK. You can be rest assured D-ENERGi is a business which will set out to consistently exceed expectations.

D-ENERGi VAT & Climate Change Levy (CCL) Energy Rebates team.

Not all organisations are liable to pay for VAT & the Climate Change Levy on there supply of gas and electricity these can be various from care homes to charities. We have a dedicated rebates team. If you feel you may have been overcharged on your electricity and gas bills do not hesitate to contact our VAT & CCL Rebates team.
Connect with us
Call for free 0800 781 7626 to speak to one of our friendly team and help us reduce your business energy costs!