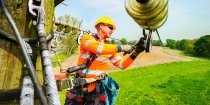 Our customers are at the heart of everything we do and that's why we're changing to better support their needs.
Our new brand, Scottish and Southern Electricity Networks, brings together our businesses in the north of Scotland and central southern England – Scottish Hydro Electric Power Distribution (SHEPD), Southern Electric Power Distribution (SEPD) and Scottish Hydro Electric Transmission (SHE Transmission) – that had previously sat under the umbrella of Scottish and Southern Energy Power Distribution (SSEPD).
Feedback from our customers, our stakeholders and our own research led us to look at how we could simplify our brand to provide a greater understanding of who we are, what we do and how we can be contacted.
Scottish and Southern Electricity Networks brings power to 3.7 million homes and businesses; from the smallest of rural communities in the north of Scotland to the busiest of cities in central southern England. Our employees – whether out in the field or office-based – live and work in these communities and the simplification to one name, overarching all of our businesses, will help us build an even stronger affinity to a business that has been bringing power to its customers for over 70 years.
At Scottish and Southern Electricity Networks, we're proud to provide a vital service and through this new identity we're reassuring our customers that we're consistently there for them; powering our communities day and night. Our priority is to keep our customers' lives comfortable, warm and well lit and by focusing on people we understand the needs of our communities and that in turn drives us to deliver the best service possible.
Each winter, we work to keep the lights on in the face the storms that test the strength and resilience of our network, and we've helped our communities prepare for worsening weather conditions. That help will continue and grow with the Scottish and Southern Electricity Networks Resilient Communities Fund, which makes grants of up to £20, 000 available to projects aiming to improve community resilience in extreme weather conditions; a fund which has provided over £1m in grant awards to date.
Working with the Energy Networks Association, Scottish and Southern Electricity Networks is also supporting the new, national free-to-call 105 number; three memorable digits that anyone in England, Scotland and Wales can call in the event of a power cut or electricity emergency.
For Scottish and Southern Electricity Networks' customers, today signals a change that will bring a stronger, clearer identity with a greater focus on supporting their needs. It's not change for the sake of change and it's not simply a new logo; it's a chance to build on our 70-year heritage and look ahead to the next 70 years - and beyond - with a clear vision on how to power our communities and empower the lives of those within them.